Thank Goodness it's #AskAwayFriday…Welcome back to the best link up around...#AskAwayFriday!
This week I had an awesome swap with Stacey Gannett from
This Momma's Ramblings
. Be sure to pop over and check her answers to my questions.. Stacey is an amazing mum who homeschools her children along with the day to day homemaking and adventures of DIY fun and recipes which she enjoys sharing!
What is #AskAwayFriday? Well...
#AskAwayFriday was created by the amazing Penny from Real Housewife of Caroline County who will again be joining us from time to time, as a way to connect with other bloggers with a great Q & A session of 10 questions and 10 answers, between two bloggers! This is a wonderful opportunity to get to know others while allowing others to get to know you and of course there is also the added bonus of making great friends along the way which is one of the best parts of this online world! Now to welcome our wonderful #AskAwayFriday hosts...
Tamara from Tamara Like Camera, Tiffany from Mrs. Tee Love Life Laughter, Christy from Uplifting Families, Stacey from This Momma's Ramblings and Amber from Bold Fit Mom
Grab our button, follow our amazing hosts and co-host, hop through the great link ups and make some amazing new friends!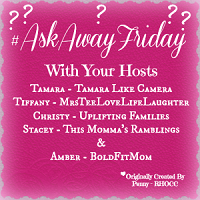 Come and be a Co-host for this amazing party! Click on the image below to fill out the form to take part!
These are the 10 questions from Stacey and my answers.
1. What's one thing you'd rather pay someone to do than do yourself? Why?
I used to think that getting help with managing my household is not very glamorous.
Afterall, it is my house and everything inside belongs to me. I feel like I need to do most of the things in order to be
responsible.
However, my husband aided the change in my thinking. Now, I say, "Hey, getting help for the
household could be a good idea afterall. Anyway, who doesn't want a "promotion" in the office? What I need to learn is good
people management skills to manage a helper instead of actually doing the housework. This is quite nice!"
2. Do you have a favorite story from your childhood that you read to your kids?
As a child, I love the story of Cinderalla. The power of her fairy godmother captivated me.
However, I did not share this story with my boys, only my girl.
3. What is your fondest dream that you have yet to accomplish?
Hmm.. Should I tell or should I not? I would like to own a profitable business which could give me recurring income to
feed me an entire life. Very practical but secretly, I dreamt of being a botanist or a "safari-keeper" working in wild life parks taking
care of animals.
4. What are five things that you like to do for just you?
I love to visit spas for massages. I am a shopaholic if I have the resources. I have of late started my
exercise regime again. Reading without interruption, painting and writing are all things which I like
to do just for myself.
5. What is one guilty pleasure you enjoy too much to give up?
This is so cute! Confession time: I am guilty of eating too much chocolates. Even when I have a sore throat, I have to eat some as dessert
. ;P
6. Tell me about your dream vacation?
My dream vacation would be to visit
the castles in Loire Valley in France again. We visited it with our children a few years back and they were so beautiful.
I was swept away by the culture and the stories behind each castle. The childen enjoyed the beautiful setting with lots of nature and greenery.
7. What type of books are your favorite kind to read? What is your favorite book/author?
I love parenting books best now. My favourite book is The Five Love Languages By Gary Chapman
. It resonates with how I parent my children and I like the way he emphasizes love as a basis for disciplining
children.
8. I love music, from all genre's...What are the top 5 songs that are rockin out your playlist?
Katy Perry 'Roar', Elvis Costello 'She', Christina Perri 'A Thousand Years', Norah Jones 'Don't Know Why' and most of late Leslie Cheung's cantopop.
9. What are some of your favorite places to take your kids in and around Singapore?
Sentosa beaches, Botanic Gardens to play frisbee/football and West Coast Park to fly kites and inline skate!
10. What is your favorite dessert?
Thanks so much Stacey for your wonderful questions! I had an incredible time. Be sure to pop over
This Momma's Ramblings
to check her answers to my questions.
Check out our Facebook page "
AskAwayFriday
" for a great place to meet up and send out a #BuddyRequest if you need a partner to swap with!
Would you like to join in on the #AskAwayFriday fun as a co-host? Click on the link below and fill out the form!https://docs.google.com/forms/d/1UhIFHDZT8-hFtNjHU7v5HHqM1N9JWq7eSd_5aO_MOdY/viewform By adding your email to this link up, you will be added to email correspondence that may be sent by one of our hosts, you may opt out at any time. Host's reserve the right to remove any links that do not pertain to the #AskAwayFriday theme.